Everything We Know About Ben Affleck and Ana de Armas's Budding Romance
Affleck, 47, and Ana de Armas, 31, took a romantic stroll on Sunday morning with their dogs. They were spotted laughing, drinking iced coffee, and gazing at one another. Not gonna lie, I'm pretty jealous.
Proving that their relationship is getting very serious, Affleck and de Armas were photographed on a dog walk with all three of Ben's children—Violet, Seraphina, and Samuel. Affleck coparents his three kids with ex-wife, Jennifer Garner.
May 19, 2020: Ana borrows Ben's shirt for a quick outing. She also tells her friends that he's the "best boyfriend" she's ever had.
Some observant fans noticed that de Armas seems to be snatching clothes out of Affleck's wardrobe. In early March, Affleck was photographed wearing an olive-green button-down, and the next month, de Armas was seen layering what appears to be the same shirt over a black sports bra while stepping out in Los Angeles.
"[Ana] thinks Ben is such a sweet and nice guy," a source told Us Weekly. "[She] admires how he juggles so much between work, his kids and coparenting with Jen.
"Affleck also "splits his time [between Ana and his family] and, as always, the kids are the most important thing in his life," according to the insider. Still, he "always makes sure he has time for [Ana] and that she is number one," the source continued. "They are having so much fun together and she has been telling her friends how Ben is the most amazing boyfriend she's ever had."
The source also told the outlet, "He really just wants her to be happy and is always doing thoughtful gestures. Ana is also very attracted to Ben and thinks he's so cute. They're in a great place."
May 14, 2020: They are briefly featured in a music video.Making a cameo in Residente's "Antes Que el Mundo Se Acabe," a romantic music video featuring couples from 80 different countries, Affleck and de Armas were one of 113 kisses.
Affleck and de Armas's kiss was filmed during their recent trip to Joshua Tree National Park for de Armas's birthday. Affleck, holding up the camera to include the scenery behind them, pecks de Armas on the lips as she cradles his head. She follows up with another peck on his cheek.
May 14, 2020: Sources talk about their momentous getaway to Joshua Tree National Park.
A source for Us Weekly revealed that Affleck and de Armas's romantic desert getaway, which they embarked on toward the end of April for the actress's birthday, was extra special.
"Ben went over-the-top to make her happy and make her birthday with him be extremely special," the insider told the outlet. "Ana feels like the luckiest girl to be with him."Another source added, "He worked hard to make her birthday both safe and memorable."
May 6, 2020: Ben and Ana are spotted taking a walk with their dogs.
Returning from the desert after a fun birthday celebration, de Armas and Affleck are back to the relative normalcy of their quarantine schedule together. In other words, they were spotted walking out and about with their dogs.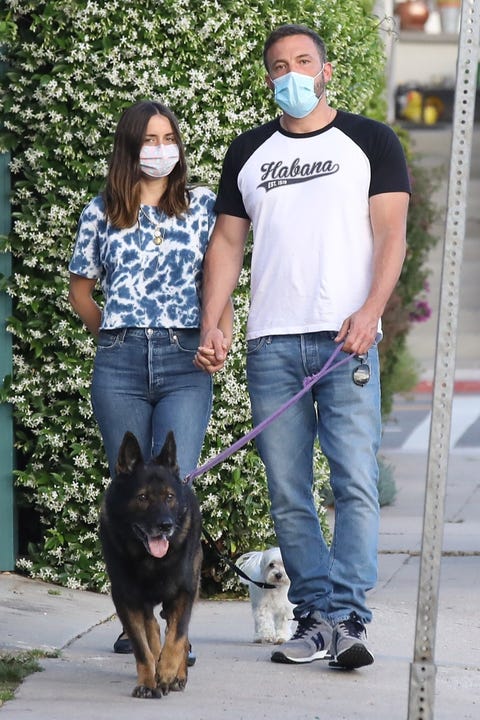 April 30, 2020: The couple is Instagram official.
After celebrating her 32nd birthday on a desert holiday, de Armas posted a series of snaps that included a selfie with Affleck and another photo of the two of them hugging.
"Thank you all so much for the birthday wishes and love," she wrote in the caption. "Cheers to another great year. 🎉🌈💕🙏🏻🌸🌹✨🎈"This content is imported from Instagram. You may be able to find the same content in another format, or you may be able to find more information, at their web site.
In another post, this one a video clip, de Armas knocks out a piñata while Affleck, who seems to be recording, eggs her on in the background.