Gigi Hadid recently confirmed she is expecting her first child with her boyfriend Zayn Malik.
While the exact due date is still unknown, and there has been conflicting speculation, the model has now confirmed that she was in the early stages of pregnancy during fashion month in February.
Speaking to Maybelline on Instagram Live on Wednesday (May 20), the 25-year-old reflected on the change in her face due to her pregnancy which she says was noticeable and led people to speculate that she had undergone cosmetic procedures.
'People think I do fillers on my face, and that's why my face is round—I've had this since I was born,' the model clarified before adding that the speculation increased earlier this year.
'Especially fashion month, when I was already, like, a few months preggo, you know,' the star explained.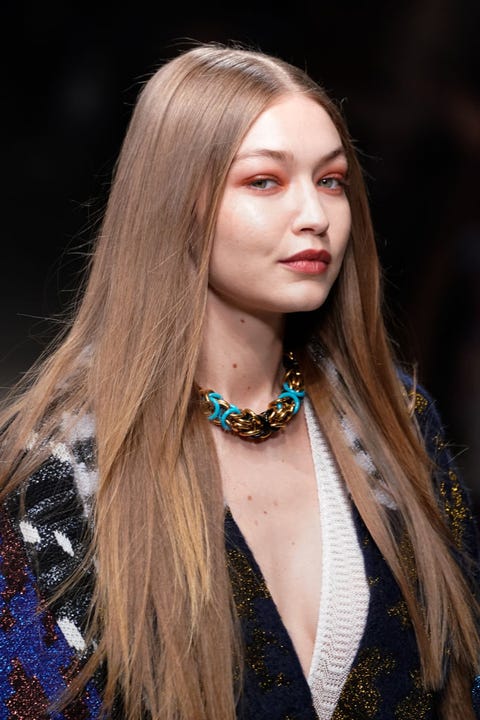 Hadid's make-up artist Erin Parsons then told her friend she wondered if she would look any difference due to pregnancy's natural effect on the body.
'Well I think I have the cheeks already so there's not much to fill in,' Hadid said before saying that if her face changes in any other way she's happy for 'the natural process of the world' to take its course.
The star then doubled down on anyone assuming she has had cosmetic procedures, stating that, for the record that she has never undergone any.
'No for those wondering, I've never injected anything into my face,' said Hadid. 'I am so happy for everyone to do whatever they want that makes them happy and make them feel more comfortable and good about themselves.
'Me personally, it terrifies me. I feel I'm too much of a control freak I'm like, "What if it goes wrong?"
'Hadid reflected on her changing face as she's got older – which is the way of most people – saying it has slimmed down since she first entered modelling as a teenager.
'People are so fast to do permanent things to their face when really I accept myself how it is, that doesn't mean I don't have insecurities sometimes,' the star continued adding that make-up is a great tool to contour and shape certain parts of your face if you feel like it from time to time.
Hadid finished her wise words by encouraging viewers to 'accept your beautiful face for exactly how god made it, and your Mum and Dad.'Sounds like Hadid's got these parenting lessons down already.