Sophie Turner And Joe Jonas' Parenting Timeline: From Willa's Birth To First Family Outing
Sophie Turner and Joe Jonas haven't stopped for a moment since welcoming their daughter Willa.
The couple became first-time parents on July 22 after the former ELLE UK cover star gave birth to their daughter over a year since their marriage in Las Vegas and second wedding in the south of France.
In the weeks since, the pair have been coming to terms with their life as a new family, enjoying some quality time on road trips together in the US and making appearances on each other's social media accounts.
From outings in LA together to social media appearances, here's a timeline of Sophie Turner and Joe Jonas' first months as new parents:
October 2020: Joe Jonas gets a tattoo and it looks like it's of Sophie Turner's face
While we wait patiently to catch a glimpse of Joe Jonas and Sophie Turner's daughter Will, here's a photo of father's latest inking:
On Tuesday October 13, Jonas shared his new tattoo, inked by Los Angeles based artist @_n.a.l, on his Stories. The picture shows a Fornasetti-style keyhole on the back of the singer's neck, with an eye and lip staring peeking out of it.
The woman depicted in the tattoo bares an uncanny resemblance to Turner and this hasn't gone unnoticed by the couple's devoted fans.
'IS THAT SOPHIE, [sic]' one fan wrote on the original photo, shared by the tattoo artist on Instagram.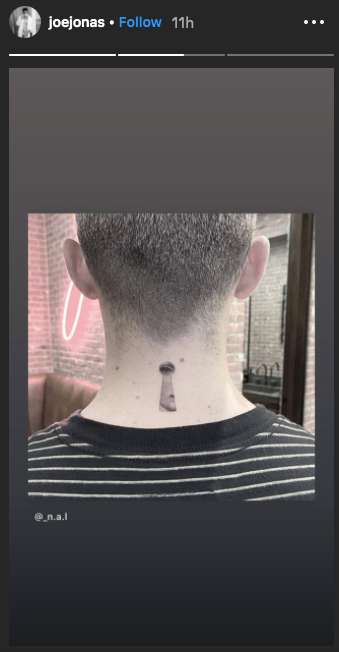 JOE JONASINSTAGRAM
'If Sophie's eye is the lock then Willa's eyes must be a key, @joejonas get another tattoo done, [sic]' another added.
'Wow Sophie's eye,' one fan wrote.
Sophie Turner shares a photograph of Joe Jonas' new inkings
The actress has taken to her Instagram Stories to share a photograph of her husband eating lunch with his newly-dyed pink hair and new tattoos.
On Monday October 5, the 24-year-old posted the images of the tats on her Stories which include three circular tattoos that represent the principle 'see no evil, hear no evil, peak no evil'.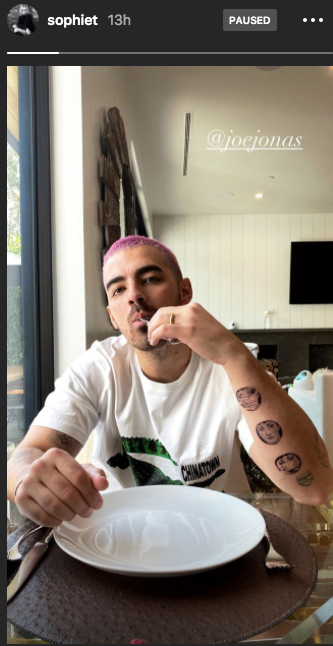 INSTAGRAM
In the background of the photo, it appears Turner has left out some of her daughter Willa's toys, which suggests the image was taken at the couple's home in Los Angeles.
Joe Jonas dyes his hair bright pink
The singer has shared a photograph of his newly-dyed hair to mark Breast Cancer Awareness Month.
On Friday October 2, the 31-year-old new father showed off his new look on his Instagram Stories and included a pink ribbon to bring awareness to the annual campaign.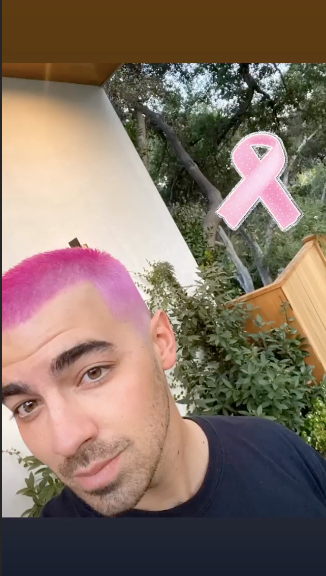 JOE JONASINSTAGRAM
This marks the second time Jonas has sported bubblegum-hued hair. For the 2016 Kids' Choice Awards, he debuted pink and blue locks for his appearance with his band, DNCE.
September 2020: Sophie Turner shares pregnancy photos
Turner has given her fans a sneak peek into her pregnancy with her daughter Willa.
On Sunday, the Game of Thrones star shared several never-before-seen photos of her baby bump, including one of her wearing a green bikini while sat outside in the sunshine.
Another photo sees her standing with her dog in a swimming pool in another bikini and a third snap shows her baby bump 'dressed' in a Hotel Bel-Air pink and white stripey nightgown.